In 2020, due to the COVID-19 Pandemic, the Western States Trail Foundation Board of Governors voted for the first time in history to cancel the annual Tevis Cup Ride. But we wanted to offer a way for our riders, crews, volunteers, supporters and lovers of the trail to still be able to participate. Thus the creation of this virtual event, which was so well received we have decided to host as an annual fundraiser.
---
This year's Virtual Event starts on Wednesday, April 19th – and will run for 100 days until Sunday, July 30th, 2023* – as the riders of the Traditional Tevis Cup are finishing their own physical journeys** under the Tevis Moon!
(* natural disasters-permitting
** snow-permitting)
Once again, there will be both Riding and Non-Riding Divisions so everyone can enjoy the fun.
You can complete the 100-miles in as many smaller excursions as you choose to finish the goal. As you log your completed miles, you will receive updates of where you now are on the historic Western States Trail.
* How to submit your miles
* Our FAQs
Please note – mileage tracking should not start until the trail is "open" at 5:15 am (Pacific) on Wednesday, April 19th.
And once again, we will be outsourcing our fulfillment and shipping for this year's event to ensure that awards get sent out in a timely manner 🙂
To reduce the load on our volunteers, awards will be sent out in batches on a monthly basis.
(Shown here – 2023 Completion Shirt Design)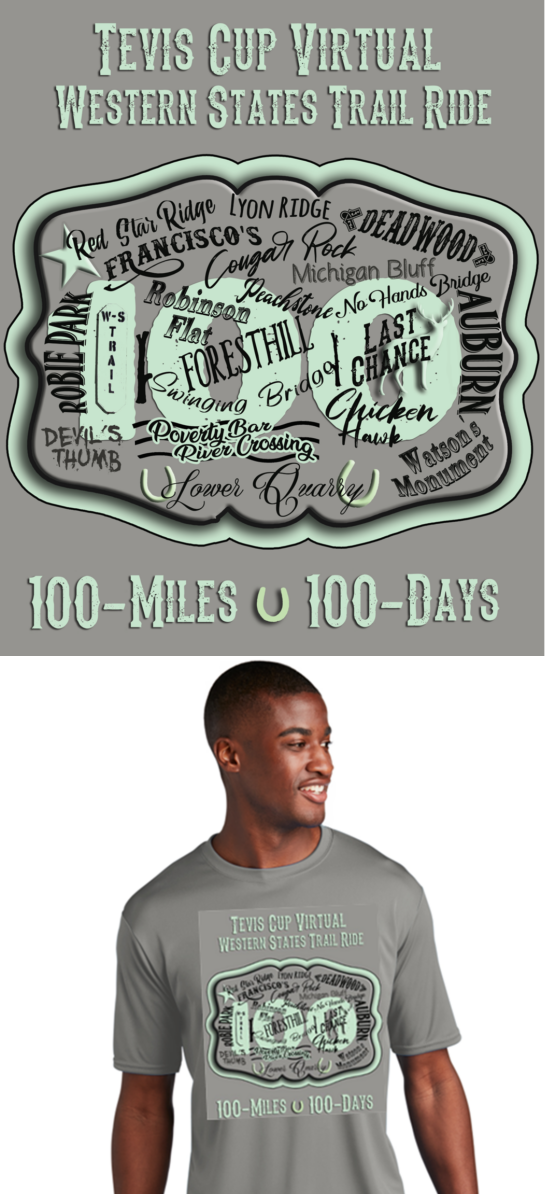 NEW! Finisher Medals as an award option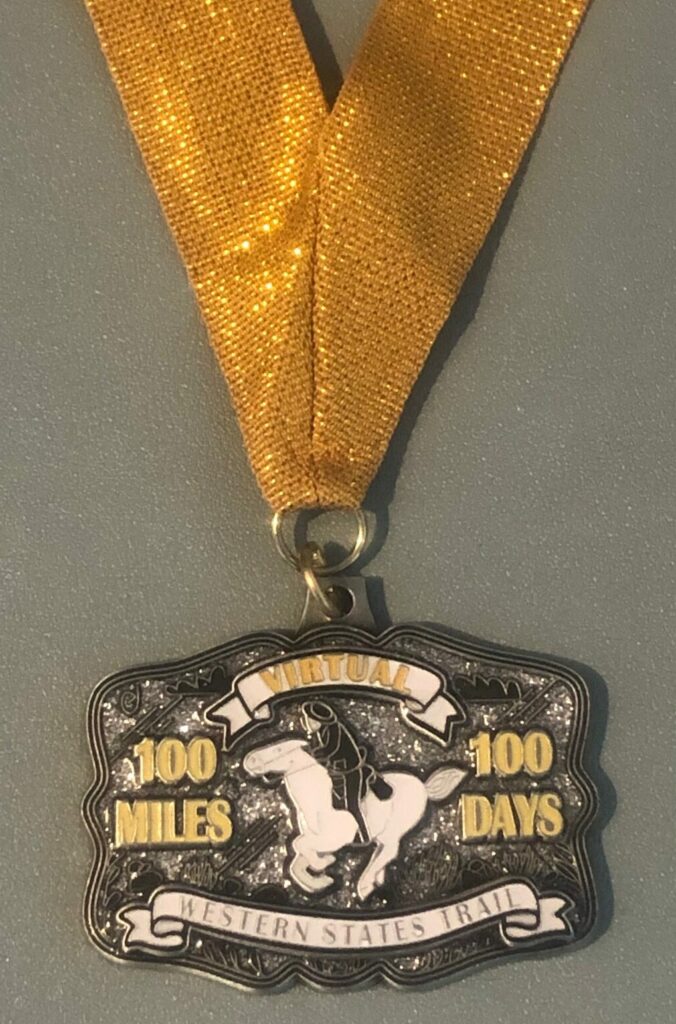 ---
FREQUENTLY ASKED QUESTIONS:
I don't own a horse, can I still participate? YES! Please register for our non-riding division. You can complete those miles in any mix of transport that you choose (run, walk, hike, bike, swim, etc) as long as it is NON-Motorized to keep with the spirit of the event.
Can I walk with, run, or drive my horse / mini instead of riding it? Yes! Please go ahead and enter the "Riding" Division as you and your equine are still competing as a team. Many of our Tevis participants dismount and complete at least a portion of the mileage on foot themselves. We are happy to recognize any miles you and your equine partner complete together, however those are achieved.
I'm from (country outside the US) and would like to receive a T-shirt, can I do that? Yes! Once again this year we are able to offer this option. An additional shipping charge based on your location will be applied at checkout.
When is the deadline to enter this event? How do we pay the fee? Entries are open through July 30th but you need to complete and enter all 100 miles by that date. You can pay via credit card (or debit card with a Mastercard/Visa logo) on the registration website linked above (click image).
If I sign up after April 19th, when do I start counting my miles? We encourage all entrants to complete their mileage between the date of their entry and the end of the 100-day time frame on July 30th. Don't delay on signing up!!! Get credit for all your miles now!
How often should I log my miles? Do I log them as I complete them or all at the end? We recommend that you log your miles as you complete them for the best interactive experience. See our how to submit your virtual mileage tutorial for entering in the completed miles.
How best should I track my miles? We recommend one of the free GPS phone apps, there are quite a few to pick from. Gaia, EquiLab, Map My Ride/Run, or Ride with GPS are all popular and offer different features. You can turn on the app, start the track, and then put your phone in airplane mode if you would like to conserve battery (note airplane mode blocks any incoming/outgoing communication such as calls or texts). Use whatever works best for you. We are not validating any miles submitted.
Do the 100 miles have to be completed in 24 hours or less? No! This event is designed to be FUN and a fundraiser for the trail. While some people have chosen to challenge themselves by setting a time, there is no overall time limit on how long it may take you to complete your mileage. All mileage must be completed by Sunday, July 30th.
How can I participate more with other riders, share my photos, ask questions about the actual trail, etc? Join our Facebook Group dedicated to this event! We would love to have you contribute at https://www.facebook.com/groups/teviscupvirtualride
When will the awards be sent, when I complete the 100 miles? We will be shipping awards on a monthly basis. Due to the popularity of the past events and the challenges of that much packing and posting on a small volunteer staff, once again we are outsourcing our fulfillment.
Can I receive an actual buckle for this ride? No, in order to preserve the integrity and honor of the actual Tevis Cup Buckle we are not offering a buckle for this event. The price point for participation with a buckle award would not allow many people to register. This event is a FUN fundraiser for the Western States Trail Foundation (501c3) which is the organization which maintains the Western States Trail and hosts the Tevis Cup Ride.