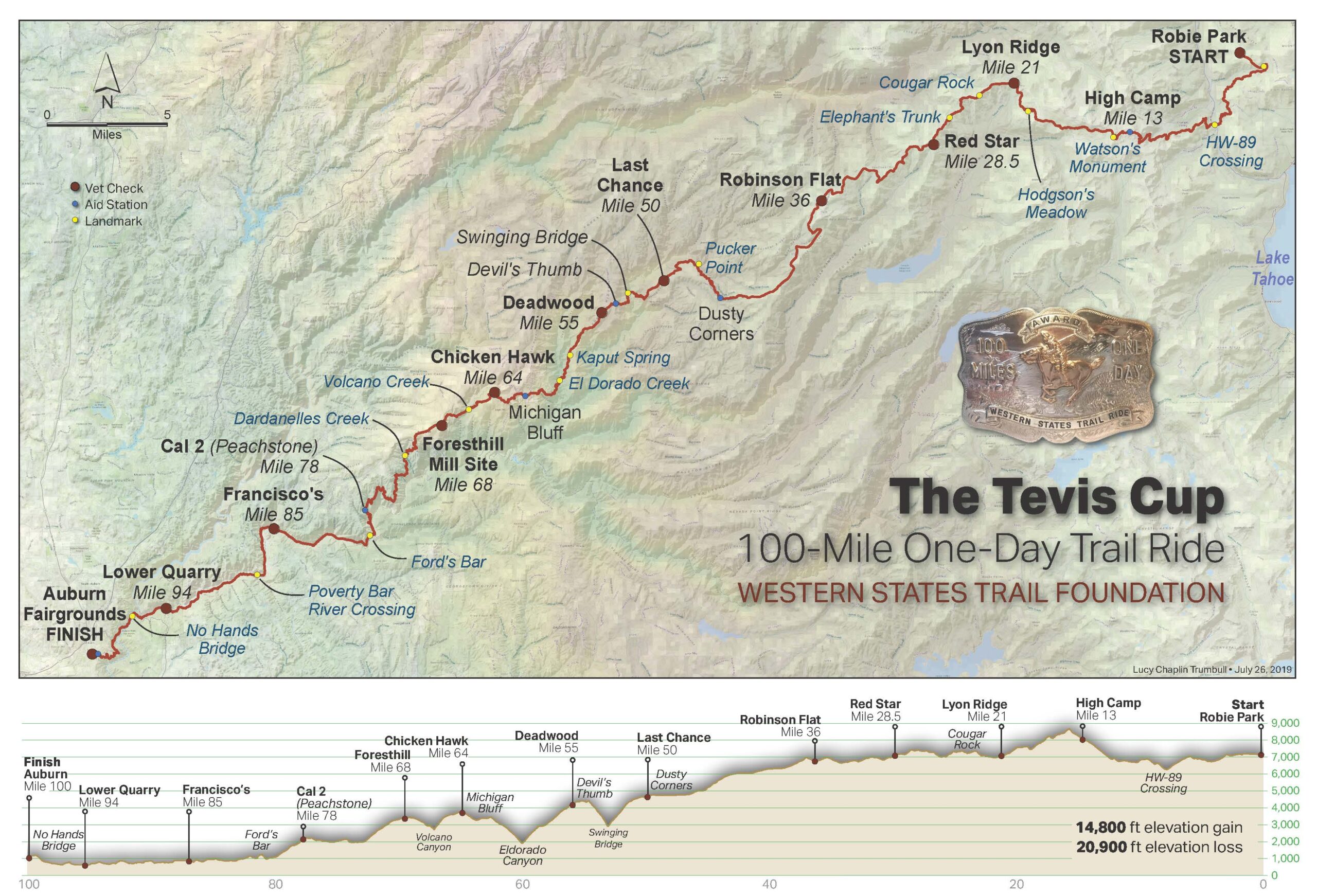 Pre-Riding the Tevis Trail
What are the best places to park my horse trailer to pre-ride parts of the Western States Trail on my own?
There are several good places to park, tack up and ride the WS Trail. Starting with the Finish Line and working back up the trail to the more remote sections, they are as follows:
The Auburn Overlook parking area is directly adjacent to the Tevis Finish Line location. The fairgrounds parking areas are a few hundred yards farther away, not so good if coming to pre-ride the trail. Take Auburn-Folsom Rd. from the Old Town/Auburn Courthouse area, go left onto High Street and go past the fairgrounds main entrance. Go right onto Pleasant Street and go about 1/2 mile. Look for a left turn into the parking lot, about 50 yards after you cross the railroad tracks. Use the gravel parking area, not the paved one nearby. You will need a Poppy Pass or to pay a parking fee.
Highway 49 Crossing: Although it is possible to access the trail where it crosses Highway 49, near the American River North Fork/Middle Fork confluence (near No Hands Bridge), owing to the huge popularity of this area, in the summer it is unlikely that you'll find a safe place to park a rig and tack up. When the weather is cooler or on week days you may be lucky.
Driver's Flat is a quarter mile off the Foresthill divide highway, about half way to Foresthill, and has good parking. The Driver's Flat turnoff is well marked. It is about a 30 minute ride from there down to the Francisco's/Rucky-Chucky area of the trail. You can also follow the trail south along the River to Poverty Bar and back. ("And back" because you may well not be able to safely cross the river when you get there). You will need a Poppy Pass or to pay a parking fee.
Foresthill
Unfortunately, from 2022, access to the California Loop from California Street is restricted to specific Events* due to the trail passing through private property and the land-owners no longer wishing to grant public access. At this time we ask that riders not use the first ~2 miles of trail leaving Foresthill headed westward.
(* WSER Memorial Day training run; Tevis Educational Ride; WSER Endurance Run; Tevis Cup Endurance Ride).
To ride the trail eastwards, towards Michigan Bluff, you can park in front of the cemetery across the street from the old mill site (Foresthill Vet Check) at the east end of town. In this case you need to ride downhill along Bath Rd until the paved road makes a sharp turn to the right. The trail is straight ahead off that turn, through the metal bar gate.
Michigan Bluff: The road to Michigan Bluff is a right turn a few miles further along the Foresthill Divide Road. It's a twisty road and quite steep in sections. Be sure your brakes are in good shape. You can park on the grass shoulder in the middle of town — just don't leave a mess. The trail is to the left at the end of the main street, next to where you can make a u-turn with your rig. Note: The High Country Trails (those above Michigan Bluff) are covered with snow from about November until late May/early June.
Chicken Hawk: Slightly less than one mile on Michigan Bluff Road, just before you crest the hill, turn right onto the 0.6-mile dirt road that leads to Chicken Hawk Staging Area. Horse camping is encouraged here during the summer and there is a newly-installed pit toilet. Although there is a well at this location, the infrastructure needed to extract the water needs to be brought in by special arrangement, so at this time please bring your own horse water. From here you can ride the trail backwards towards Michigan Bluff and through El Dorado Canyon up to Deadwood and Devil's Thumb; or forwards through Volcano Canyon and on to Foresthill and the California Loop. (Note: beware that google maps will send you to another part of Chicken Hawk Rd, far away from the actual staging area).
Deadwood/Devil's Thumb: Further along Foresthill Divide Road, just past Mumford Bar Staging Area, you can turn right onto Deadwood Road which is dirt and can be very rough. At 6.5 miles there is a left turn which will take you to Devil's Thumb, or you can continue straight another mile to the pump at Deadwood. The road is not recommended for low-clearance vehicles, so use common sense if you want to stage from here.
Robinson Flat: Currently Robinson Flat campground/trail head is closed due to ongoing USFS logging activities, however you can park in the turn out area to the right where the pavement ends. Follow Foresthill Divide Road all the way to its end (about a 45 minute trip from Foresthill). When open, there are numerous places to park at Robinson, but if it's your first time there, pull off to the roadside, get out and scout it on foot. There are pit toilets at this location, and although there is a pump in the meadow (no horses allowed please), it may not be operational, so don't rely on it.
From here you can ride the trail backwards along Soda Springs Road to Red Star Vet Check – and make a day trip to Cougar Rock and back, but be sure you know how to find the trail turnoff from the graded road. Many riders will pre-ride the canyons by riding from Robinson Flat to Foresthill – 32 miles. For a scenic ride, head south on the old Tevis trail down into Duncan Canyon, or take the Little Bald Mountain Loop which passes close to the Bald Mountain Lookout. The fire lookout will often welcome a visit to the tower for amazing views towards Lyon Ridge, Red Star Ridge, and west to Foresthill.
Olympic Valley (Formerly Squaw Valley): Currently the ski resort area is under construction, so for your safety, please avoid riding there until further notice.
HW-89 Crossing: There is a small turnout on the west side of hw-89 where the Tevis trail crosses under the bridge, large enough to park a couple of rigs. From here you can either ride the trail backwards towards Robie Park (there's a nice loop on the Tahoe Rim Trail towards Watson Lake and on to Robie Park and back on the Tevis Trail); or you can head west towards Olympic Valley.
Robie Park: In the summer you may stage or camp at Robie Park. Access is on Mount Watson Blvd, off Brockway Summit on hw-267.