---
Many of you will be aware of the recent historic snowfall in California. In the past, we have had large snow packs that melted before Ride Day, so current totals are not an indication that we need to make any alternative arrangements at this point. Of course we will be monitoring the situation closely going forwards.
President's Message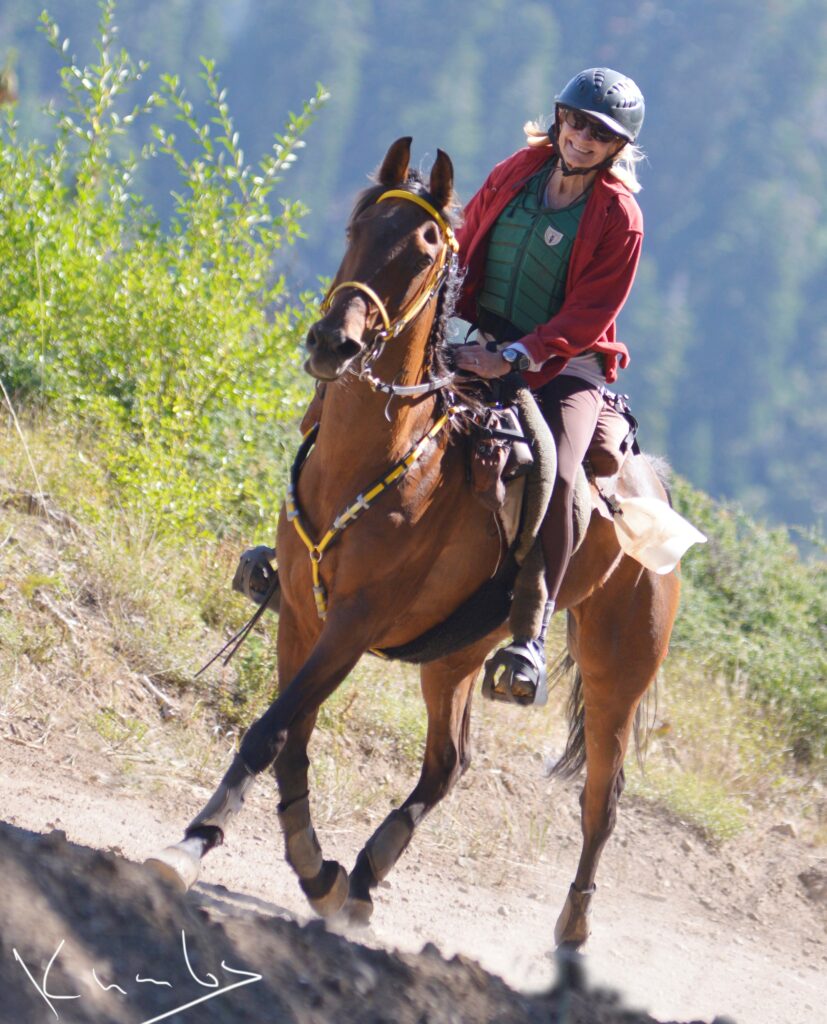 Greetings from Auburn, California!
Is this your year to cross the mountains, to check that epic Tevis Cup One Hundred Miles One Day Ride off of your bucket list?
Is it time for you to traverse the Western States Trail that was used by the indigenous people, then the gold-seekers, and eventually Wendell Robie many years later?
Is your horse ready to follow in the hoofprints of Bezatal, Witezarif, and Ruby, the Haggin Cup mule?
Yes?
Applications are live (see button above) and please consider this a warm and whole-hearted invitation to you and your horse.
What if you don't have a horse or don't feel ready, but you do have a fear of missing out and want to be part of this iconic event anyhow? There are plenty of ways to volunteer all along the trail, to crew for friends old and new, and to spectate on the side of Bath Road and in McCann Stadium, even if you miss the pre-dawn start. We welcome you, too, horse or not. Get involved, be inspired, and join the Tevis family.
---
The 2023 ride, our 67th , is like the others that have preceded it. Planning starts immediately after the previous ride. An extensive and comprehensive review allows us to learn from experience.
The 2022 ride was undeniably challenging for horses, riders, veterinarians, and ride management. We have asked ourselves what we can do to make this year's 100-mile journey safer and more enjoyable for all. Stricter rules, higher qualifications, more vets? We have been doing the hard work of rigorously scrutinizing the 2022 Ride, and we are making changes that we are convinced will be beneficial.
Fire and rain? Yes, Mother Nature delivered both in a big way. Early trail work by volunteers and agencies after the Mosquito Fire, yet before the deluge, turned out to be very effective. Although there is much more work to be done, our scouts who ventured out on the trail shortly after the incessant rain were pleased by the way the trail held up.
Right now, the Sierra Nevada is cloaked in white snow, brown grass has been obscured by brilliant, fresh greenery, and the people of the very thirsty state of California are grateful for some drought relief. With the hope that the rest of winter will be normal, we look forward to wildflower displays for the springtime volunteer trail workers and abundant water for all horses on ride day.
We have a drawer full of belt buckles waiting to be awarded on July 30. Jewelers are making small repairs on the coveted trophies before polishing them, and the new medallions for the Tevis Cup, Haggin Cup, and Robie Cup winners are being crafted.
If you join us, you might take home a buckle, a volunteer t-shirt, or a souvenir from the Tevis store. You will witness determination, selflessness, and encouragement from strangers. You will see some authentic athleticism. You will also feel more respect and affection for the amazing equines that give us so much than you ever did before. Sound enticing?
This is your invitation to come to California at the end of July. Become involved and find out for yourself.
Barbara White
President, Western States Trail Foundation
---
Ride Director's Message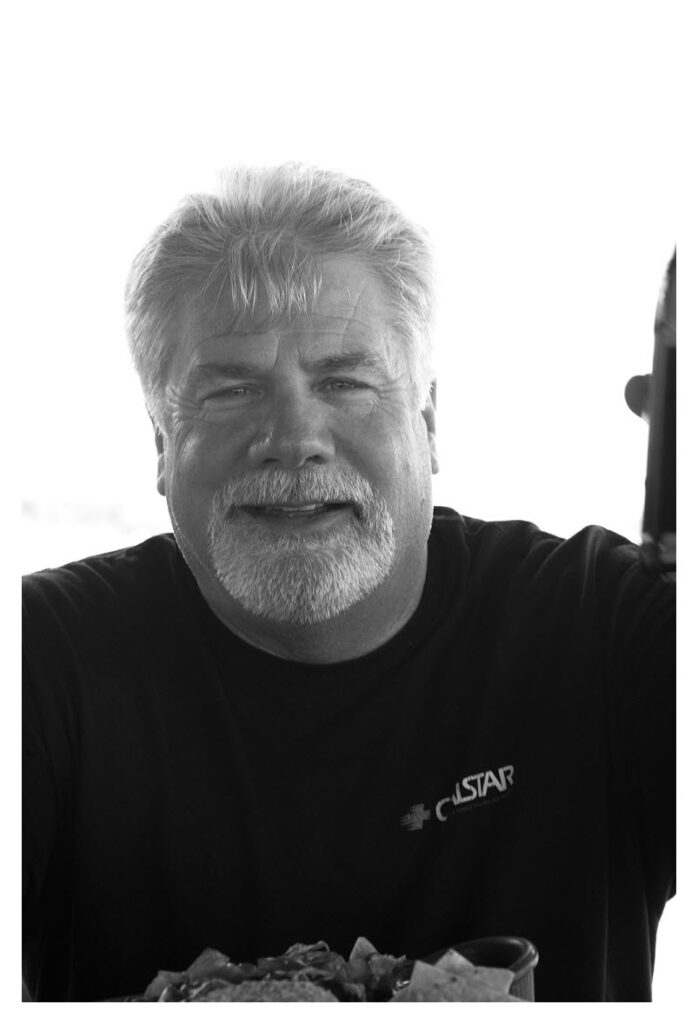 Progress is being made on the trail both in the USFS and ASRA portions of the trail after the damage from the Mosquito Fire last fall.
The Forest Service has closed the fire scar area, but we work closely with them and they assure us that it will be open in time for late spring pre riding.
WSTF has contracted with an independent forest service crew to work the canyon areas and that work will start as soon as the weather turns favorable. The work is being funded jointly by the WSER and WSTF organizations. As that crew finishes up, many volunteer days will be needed and available for those who wish to donate time and resources to the cause.
ASRA's trail crew is currently working on the trail from Foresthill to the finish in Auburn. Using trail equipment brought in from the area which would make a big improvement in this section of the trail (about half of our 100 miles). The ASRA trail is currently open for riding, so please be aware and careful in the event you encounter trail crews working on the improvements.
The 2023 digital entry is available (see button above), so be sure to proceed with plans to enter as the forecast for another good Tevis event is bright.
Safety is always a top priority for the riders and horses of the Tevis. We have spent many hours refining personnel availability and training, supply and equipment deployment, and expanding our contacts with agencies should we need them on Ride Day. This is a challenging ride, worthy of the bravery and skill of the pioneers who blazed this event. Train and prepare accordingly as we are ready to share in this adventure with you and your equine partner.
One of the ongoing changes we have addressed for 2023 is the use of lights. We HIGHLY recommend you acquire and practice using a headlamp with red and white light options. The Rule change will be discussed at length in future communications as well as in the Rule Book.
Every year of the Tevis is an adventure. This year is not unique. We have dealt with fire in the past, high snow loads in the back country, lots of water in the western half as well as drought. Improvements to the trail due to the challenges of nature only serve to enhance the magic of the Tevis experience.
There's even a new barn going in at the Gold Country Fairgrounds! We welcome your entry.
Chuck Stalley
Ride Director, Western States Trail Ride (aka Tevis Cup)
---
Trail Report
We've spent the past couple months putting in place the building blocks that will allow us to get the trail open for our 2023 events. With the help of Tahoe National Forest (TNF), Auburn State Recreation Area (ASRA), experienced trail contractors that we have engaged, our core trail team, and strategically scheduled larger volunteer days, we just need a bit of cooperation from the weather and of course everyone to do their part to achieve our goal.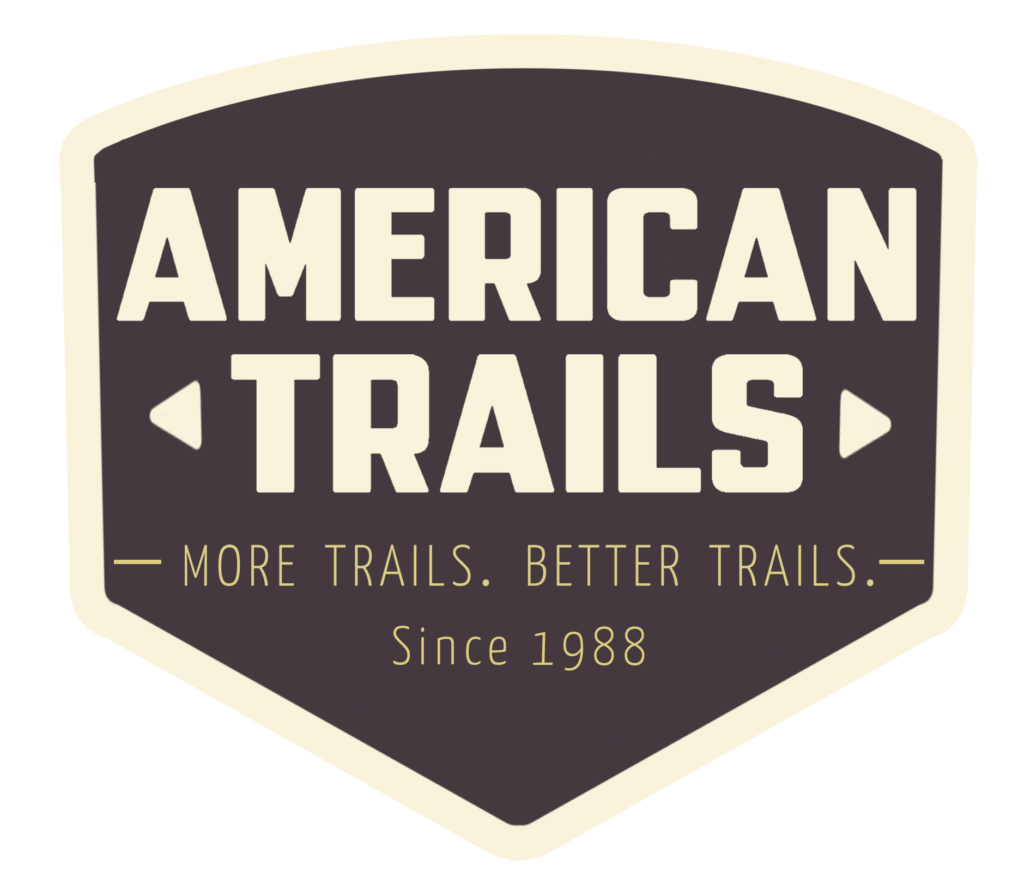 Western States Trail Foundation is excited to announce that is has recently received $100,000 from the Legacy Trails Program, administered by American Trails, for trail improvements between Last Chance to Michigan Bluff (Historical Section of Trail). We will use much of this for rock work, chiseling back and micro-blasting rock steps and corners to maintain 18"-24" tread width (not to exceed 30" in Historical section of trail per USFS requirements). Due to snow and crew availability much of this grant work will occur post 2023 ride and into 2024.
TNF has already staked 33 new work sites in El Dorado Canyon. TNF has been working in the canyon since January, on a Monday through Thursday schedule. February 13th additional trail work in El Dorado Canyon was contracted by WSTF and WSER with Sierra Buttes Trail Stewardship to provide assistance to the TNF Trail Crew for about 8 weeks. By the end of April 2023 the goal is to have the trail in the Mosquito Fire footprint open for all user groups and the trail width largely restored to pre-fire specifications.
MOSQUITO FIRE TRAIL RESTORATION
Swinging Bridge to Patent Road Fire Break
Volunteer work days have been set up for El Dorado or California Street trail repairs on:
Saturday/Sunday March 11/12*
Sunday March 19*
Sunday April 2
Robinson Campout trail work weekend June 17-18
(* Note that recent historic snowfalls may put these dates in question, so please check the trails stewardship website closer to the date.)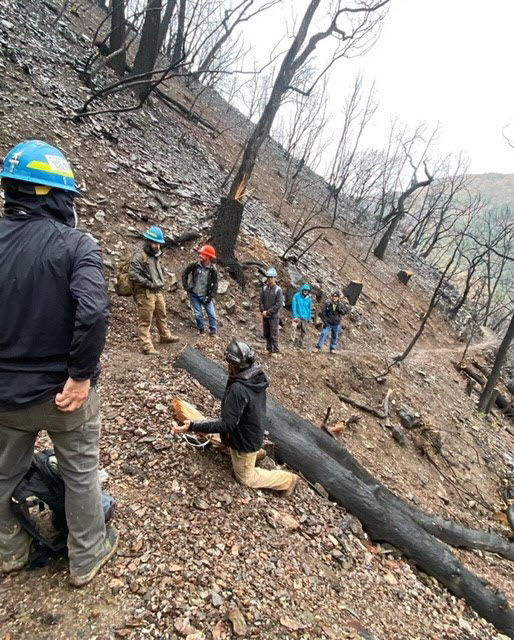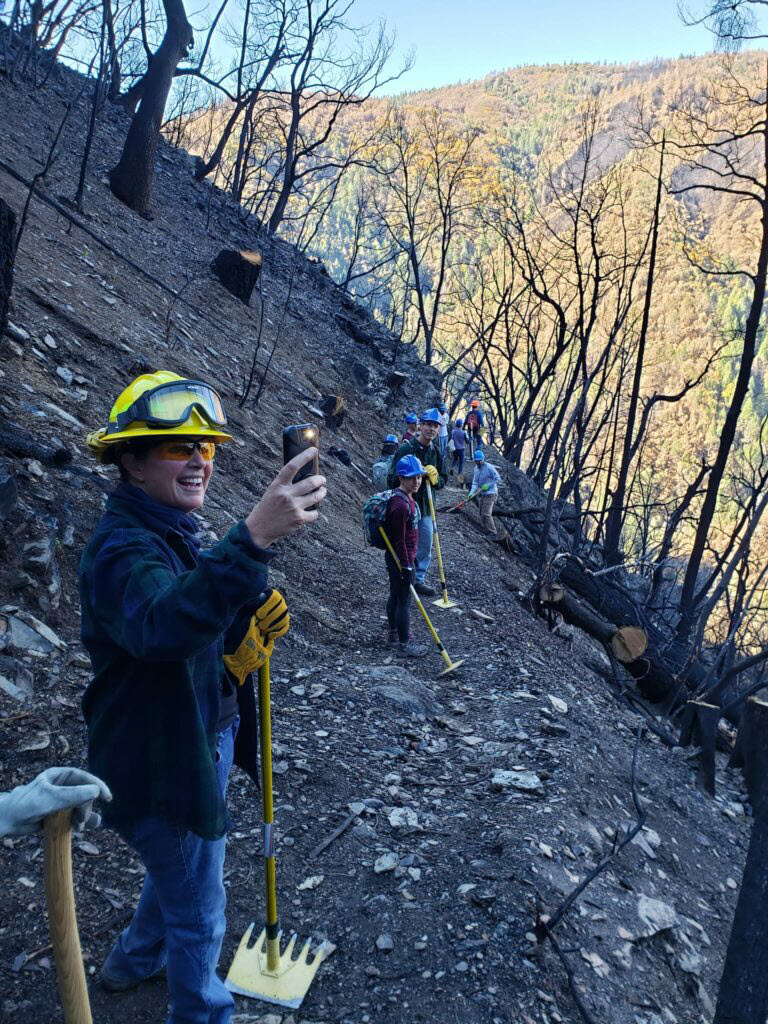 Fortunately, TNF made good progress dropping hazard trees on Deadwood Ridge, and down from Devils Thumb to Swinging Bridge before the storms hit. There will be lots to do on that stretch of trail too, but we will have to wait until enough snow melts to gain access
The ASRA Trail Crew made a pass on their section within the footprint of the Mosquito Fire, and felled hazard trees. ASRA has contracted with the Auburn Unit of the California Conservation Corps (Auburn CCC) to assist the ASRA Trail Crew re-bench the trail using a trail machine from Poverty Bar to Dardanelles Creek. The ASRA Trail Crew with Auburn CCC, will work starting in the west (Poverty Bar) and work eastward with planned camps at Rucky Chucky, Fords Bar, and Patent Road.
West of Foresthill we have about 5-6 miles of fire damaged trail (Mosquito Ridge Road to Patent Road Fire Break). CalFire made a pass over the 5-6 miles of burned trail, installed some erosional features, logged out the trail so it was passable, and stitched together sections of trail cut by fire breaks.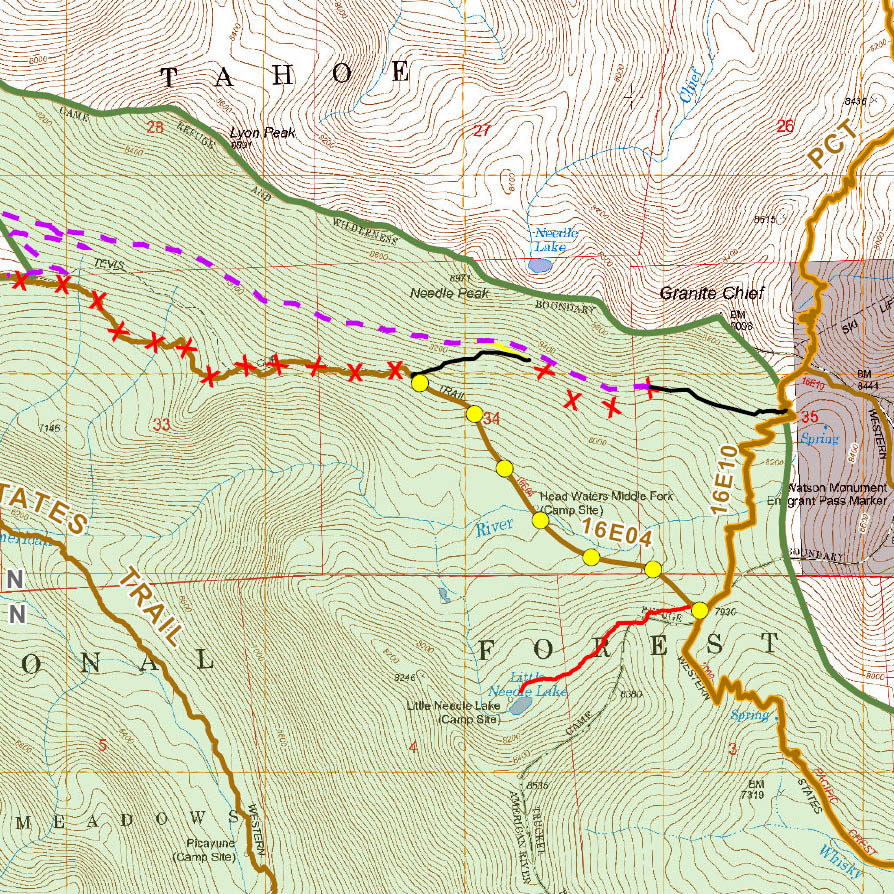 In order to make sufficient progress on this project we will need to complement Tahoe National Forest & Backcountry Unit of the California Conservation Corps labor with some large volunteer days. Considering the time it will take to get to/from the basecamp we are organizing back-to-back volunteer work days with an overnight in the wilderness.
Volunteer work days have been set up for this specific project on:
Saturday/Sunday July 22/23
Saturday/Sunday August 19/20
Saturday/Sunday September 16/17
---
The Ed Ride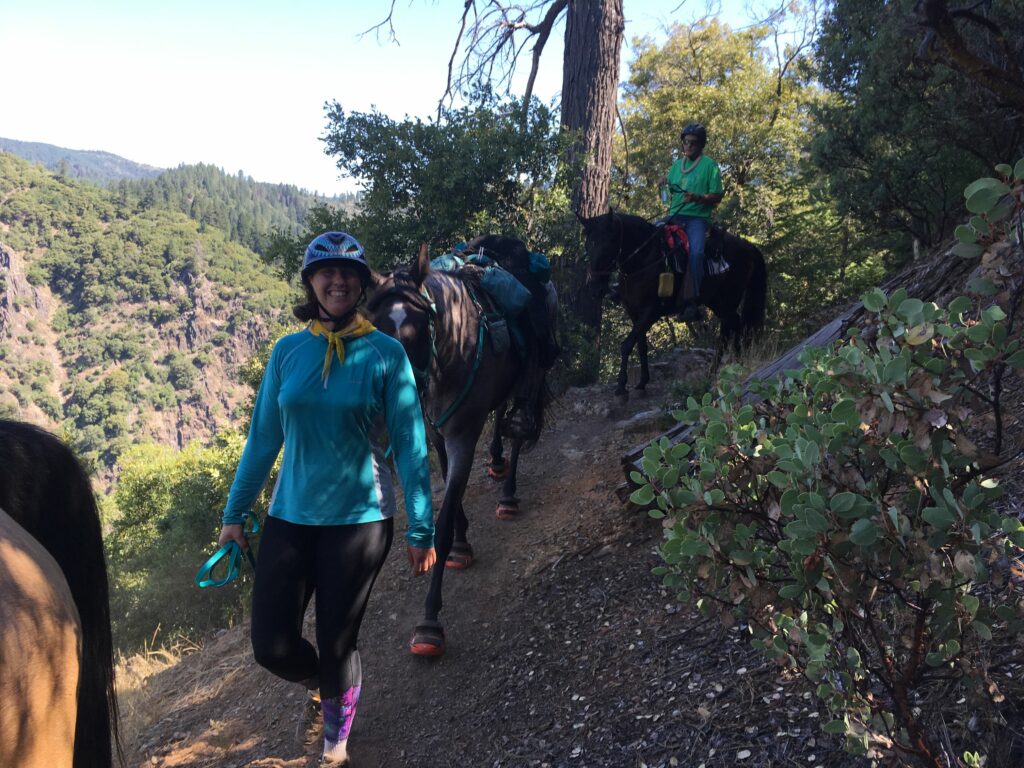 The 2023 Tevis Educational Ride will take place July 7-9!
New this year:
150 Tevis qualifying miles will be awarded to riders who complete both days of the Ed Ride.
Ride routes will be be flip-flopped from the normal to allow more time for speakers on Saturday afternoon:

Day 1 – Chicken Hawk west along California Loop to Driver's Flat
Day 2 – Robinson Flat through the canyons to Chicken Hawk

Auditors are invited to attend the Saturday talks and barbecue.
---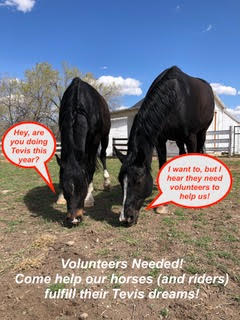 Volunteer!
Get ready to volunteer for the 2023 Tevis Cup! Our horses and riders can't do it without you-whether at a Vet Check or Water Stop, as part of the Horse Transport Team, as a Radio Communications volunteer or performing one of the many other important Volunteer functions, the Tevis Cup needs your help!
To see volunteer options and to sign up please click HERE.
No experience necessary!
---