We partner with our sister event, the Western States Endurance Run, to clear the trail. The trail has been divided up into sections, and each has a dedicated segment leader who works many unpaid hours.
Without volunteer effort keeping the trail open and useable, there would be no possibility of holding either the Tevis Cup or the Western States Endurance Run. Please give a huge shout out to them.
Trail Sections and Trail Section Leads:
Robie Equestrian Park to Watson Monument – Brian Reome
Watson Monument to Duncan Canyon Aid Station – Craig Thornley
Duncan Canyon Aid Station to Dusty Corners – Kynan Matz
Dusty Corners to Foresthill – Matt Keyes
Foresthill to Rucky Chucky/ Poverty Bar – Tim & Austin Twietmeyer
Rucky Chucky to Browns Bar Trail at Quarry Road – Jay Marsh
Browns Bar Trail at Quarry Road to Finish Lines – Kassandra DiMaggio & Andy Mayo
Current Trail Work
The Trail has been logged (not brushed yet) and trees cleared from Last Chance to Auburn.
A considerable amount of trail tread work was done first two weekends in April in El Dorado Canyon and Deadwood area. Thank you to these folks – access to this area is very difficult and a lot of rock was quarried trail-side and hauled by hand to accomplish this effort. See this FaceBook post to see what the volunteers did for on the trail between Deadwood and Michigan Bluff the weekend of 2nd-3rd April – much appreciated!
Trail Work Dates:
The next trail work weekend for larger trail volunteer groups (beyond what is being carried out by segment leaders) is in the Duncan Canyon area on May 21-22. Enjoy giving back to the trail on Saturday or Sunday, or stay the whole weekend. Trail work will be ongoing from May to September – including the opportunity to help out with the upcoming Granite Chief reroute.
Volunteer sign-up is at https://www.wser.org/volunteering/trail-stewardship/trail-work-opportunities/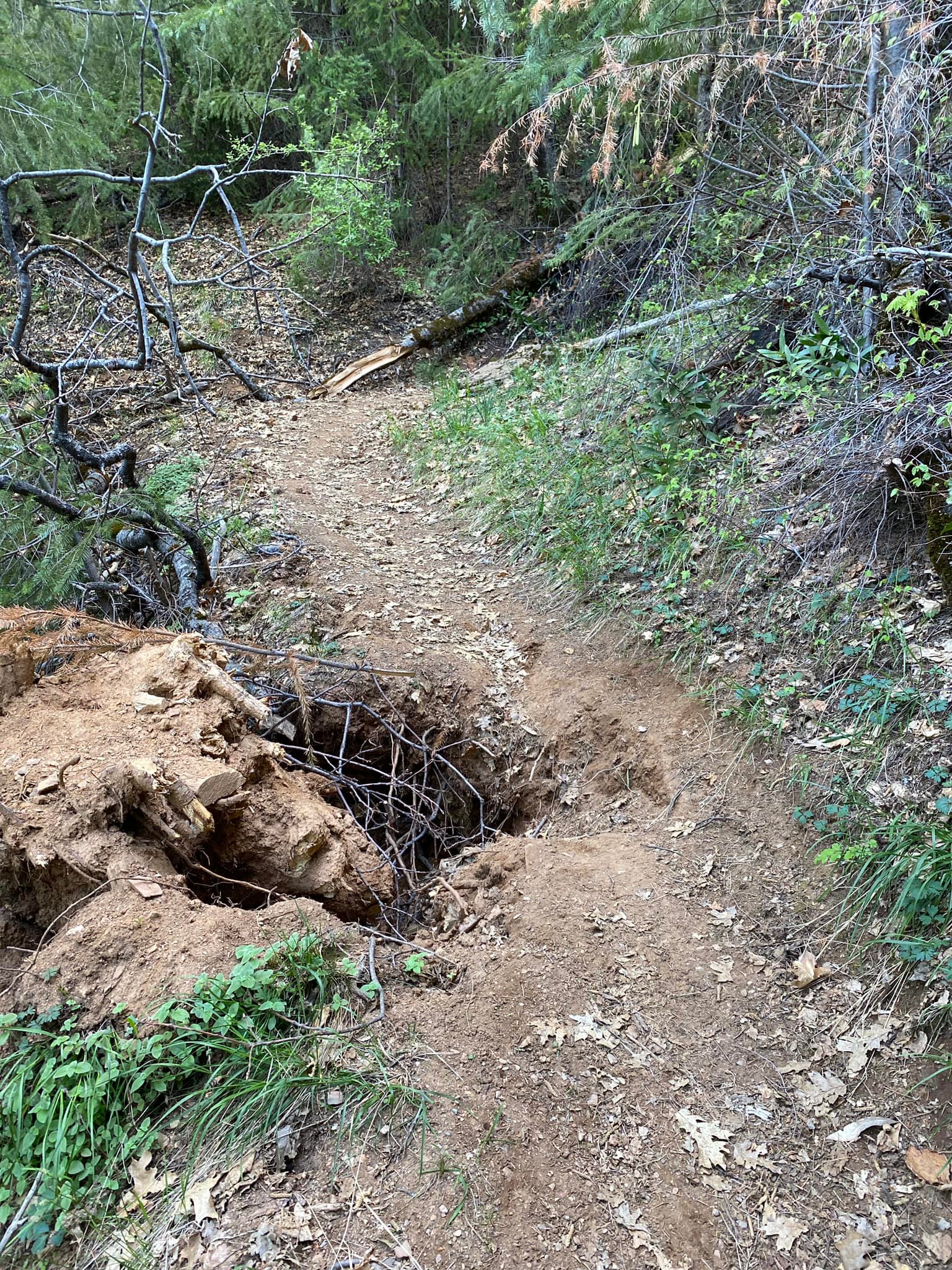 Photos: Elke Reimer
Current Trail Issues:
---
Deadwood/
Devil's Thumb Access
The road into these areas needs clearing for vehicle accessibility. We are currently working on getting a masticator in there. As of mid-April, there was still snow in this area, so nothing will happen until it has melted.
Franciscos to
River Crossing
The Trail is NOT accessible to equestrians due to a landslide in need of repair. The Twietmeyers and Auburn State Recreation Area (ASRA) are working together to resolve this prior to the end of May.
Foresthill – First 2 miles of Trail Headed Westward
From Mosquito Ridge Road to 2 miles westward – this trail section is NO LONGER accessible to any users as it is on private property. From 2022 onwards, this particular trail segment will only be accessible during the following events:
May 28-30 – WSER Memorial Day Training Run
June 10-12 – WSTF Tevis Education Ride
June 25-26 – WSER 100 Mile Endurance Run
July 16-17 – WSTF Tevis Cup 100 Mile Endurance Ride
.
Ongoing Permanent
Trail Marking
Once the snow melts, Terryl Reed has been tasked with identifying trail locations within USFS where permanent trail markers need to be added. These will be submitted to USFS for permission.
Within ASRA marker locations have been selected and many already placed.