Mosquito Fire Area: Although the USFS has officially closed the area through the end of 2023 to streamline the renewal process, this should not be taken as a sign that they intend to keep the trail closed all year. USFS can modify the closure area at any time in the future when the trail is safe for use.
They have been strong partners in getting the necessary work done to ensure that the trail is ready for both the Western States Run and the Tevis Cup in 2023.
We are confident the Ride will happen this year!
Overall Trail Report in Brief:
General erosion has occurred.
No major washouts or landslides
A few areas where 1/10 mile of trail have small fixable washouts
Lots of Soil/Debris on trail, especially in Auburn State Recreation Area (ASRA) burn scar area further down Cal loop beyond Cal 1
There are hazard trees
Mosquito Ridge Road may be closed for the entire year due to undermining and collapsing road sections. Engineers still need to review. This could impact access to certain vet checks, situation to be monitored
To volunteer to help with trail work in the spring, please watch this space.
Snow is obviously a concern – but it will depend entirely on the weather for the rest of this winter. In past years, heavy snow has dissipated before the Ride date.
---
Jan 19, 2023 tweet — UC Berkeley Central Sierra Snow Laboratory (@UCB_CSSL) at 6,900 ft, located just north of Van Norden Meadow, Soda Springs (site of the "Snow Year" 2017 Tevis Cup start):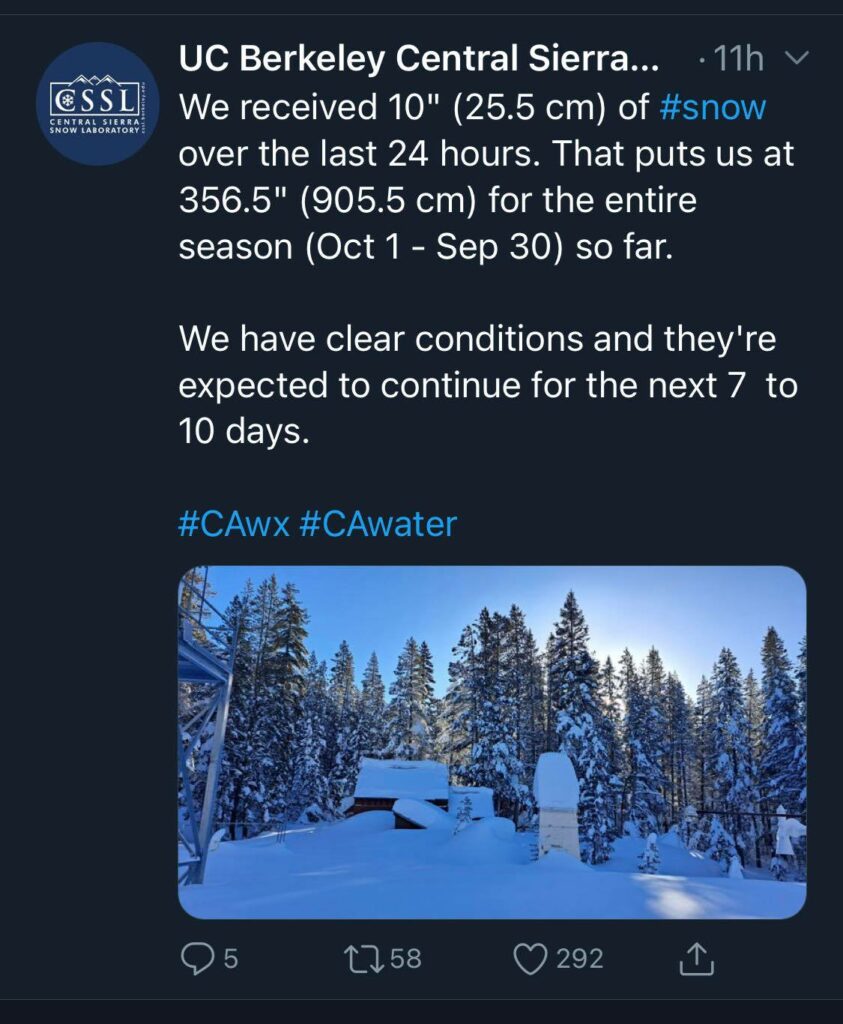 Long term planning:
In addition to the work detailed below, WSTF will need an additional +/- $750,000 to meet our multi-year goal for trail improvements in both major canyons. This is for work beyond USFS trails standards such as widening precipitous narrow spots, removal of boulders and/or rock step downs in several sections, increasing the amount of trail bed around certain corners, and other key items.
In short, financial donations will be even more important over the coming months than ever before.
Robie Park to
Watson's Monument
Last year the Truckee Trails Foundation graciously volunteered to replace some of the planks on the wooden bridges before Hwy89. They have suggested that we replace all the bridge planking and we are currently awaiting news on the likely cost of such work.
Palisades-Alpine gondola is now complete. Construction on this ski lift has meant taking a slightly different route through Palisades (formerly Squaw Valley) over the last few years. Once the snow has melted, we will need to evaluate the trail, but it is likely that this section will need some attention due to lack of use. That said, because of all the other work we have on our plate, volunteer work should be focused on lower portions of the trail and so it is likely that this year we will continue to use the same route from the past couple of years.
Watson's Monument to
Last Chance
As with every year, we are awaiting snowmelt to be able to access this area and assess what needs to be done.
Likely goals include dealing with the usual hazard trees and soil/debris on the trail, as well as clearing the encroaching vegetation in Granite Chief Wilderness (Western States Run crews clear this area, but a lot of growth occurs in the time between the Run and the Ride, so more work is needed).
Last Chance to Foresthill
USFS plan to remove hazard trees; reconnect the trail where dozer lines went through it for the Mosquito Fire; and restore the trail to the USFS standard of 24″-wide. They are committed to having this work done prior to the 2023 Western States Trail Events (Canyons Run, Western States Trail Run [WSER], and Western States Trail Ride).
The total budget for this work is approximately $305,000. USFS will cover $155,000, while the rest will come from from WST race groups (WSTF / WSER / Canyons Run). WSTF agreed to contribute $50,000 for this work, with WSER and Canyons Run contributing the remaining $100k of funds.
USFS and Sierra Buttes Conservancy are scheduled to start work in El Dorado canyon in mid-February for a duration of two months.
Any Swinging Bridge Canyon work will have to occur post snowmelt due to weather related access limitations.
Foresthill to Poverty Bar
California Street Loop: At the start of the trail as you leave Foresthill, there are fire breaks cut in between Mosquito Road and Baltimore Mine Road. We will establish volunteer dates this spring to work on restoring that trail tread / path.
Volcano Creek Logging are scheduled to do the hazard tree removal on the first 2 miles of the CA Loop.
East of Cal 1, trail restoration work will be completed by WST groups only. Volunteer dates are being organized to tackle this as soon as weather clears. This section will be hand-crews only and the goal is to get is cleared and passable as soon as possible to open for spring use.
ASRA is committed to trail machine work on Cal loop. They have already worked on the section from Drivers Flat Road to Poverty Bar. Their plan is to start west and head east. They have a contract with Auburn CCC to help. Weather permitting, they will set up their first camp at Rucky Chucky and split the crew going east and west. Their second camp will be Ford's Bar and split the crew going east and west. Their third camp will be below Cal2 on Patton Fire Road or the Dump/Transfer station road and head east and west.