For a more detailed account on the Mosquito Fire Trail restoration and exactly how trails are repaired, please visit our sister event – Western States Trail Run – site.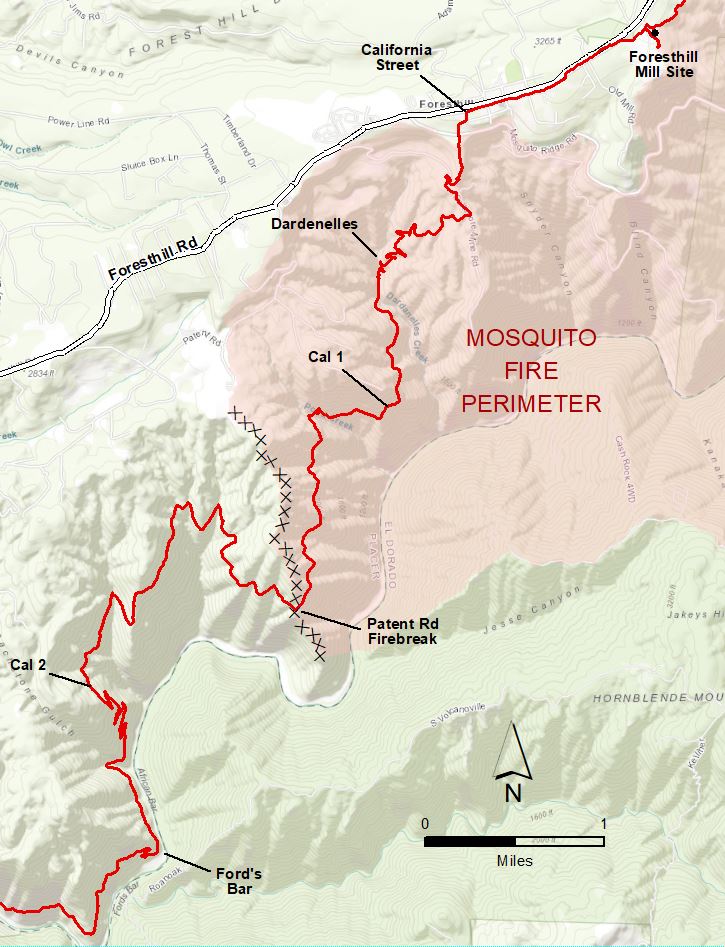 This month we completed 3 days of trail work on the Western States Trail in Auburn State Recreation Area (ASRA), solely on the stretch affected by the Mosquito Fire. We had 13-14 volunteers each day on March 11th and 12th, and 22 of us worked on Sunday March 19th—and, yes, we were working in light rain all 3 days.
I am happy to report that the trail between the Patent Road Fire Break (westward extent of the fire) and Dardanelles Creek is now clear and in good shape. Knowing that the ASRA crew might not get that far east by our events we spent additional time cutting uphill vegetation that was encroaching on the trail and removing sloughed soil and rock from the uphill part of the bench.
We know there will be additional erosion as long as the rains continue, that there are still stretches where the tread is narrow (limited by rock), and there are a couple small drainages that could use some rock work once the rains stop, but the trail is wider and more stable than it was before the fire.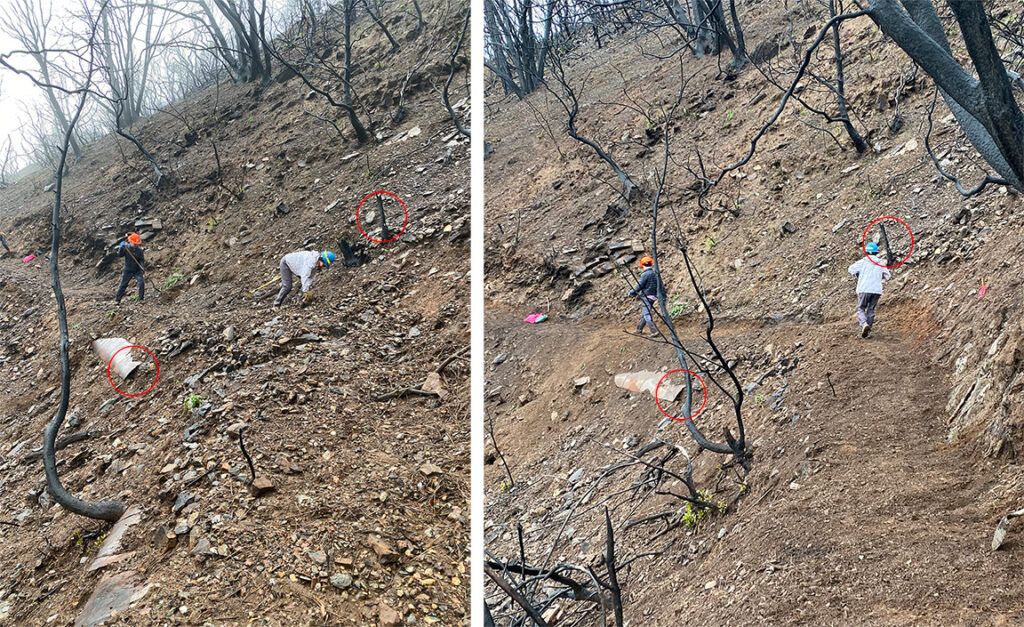 With regard to USFS property [east of Michigan Bluff], the Forest Service made it back into Eldorado Canyon early last week, and all the work – post fire & atmospheric rivers – has held up and is progressing well. It looks like we have 4-5 dry days ahead, and then more rain, but I will let you know as soon as I hear that the Forest Service & Sierra Buttes Trail Stewards and heading back into Eldorado Canyon. The Forest Service is confident the work in Eldorado Canyon will be completed in April.
It does seem we will have to wait a while until we have access to Deadwood Ridge and can begin working on the ridge and North Fork of the Middle Fork (Swinging Bridge) Canyon.
Volcano Canyon is in good shape.
Mosquito Ridge Road is still closed to traffic and may be closed for up to 1 year. We are working with the Forest Service on alternate routes and strategies for trail maintenance, and route and supply strategies for the Memorial Day Training Runs and Tevis Educational Ride, and of course the June 24th Run and July 29th Ride.
That's it for now! Come help us in the canyons in April & May.
John Catts
On the California Street section of the Western States Trail we have made a shift in our leadership. Brad Payton, who lives in Todd Valley, will be co-managing this section with Tim Twietmeyer. This will give us better eyes on the trail as its convenient for Brad to monitor the condition of the trail and weather, and with all the activity ASRA plans on this section of trail during the spring & summer Brad & Tim can more easily track progress and direct our work. Austin Twietmeyer, who is USFS certified on the chainsaw, will continue to work with us on the trail, but will also be helping Brad with our equipment and supplies in the warehouse, and over time Austin hopes to fully take over responsibility for our equipment.