Although trail work is currently on hiatus until the weather dries out, if you would like to volunteer to help in the future, please go to the Western States Trail Stewardship page for more information.
---
Message from John Catts (Trail Contact for our sister event, the Western States Endurance Run):
With a series of storms moving through the area, and access to the Western States Trail (WST or Trail) becoming more limited, I thought it was time for a brief update.
El Dorado Canyon and Deadwood Ridge:
The USFS (American River Ranger District & USFS Montana Crew) has made good progress in El Dorado Canyon, and with our large volunteer days on November 19th and 20th the trail was passable (at least until the recent storms).
Although the USFS Crew was camping at El Dorado Creek they had to move out in November due the fact that a family of bears kept entering camp after having scored food. But when the USFS Crew moved out they continued to come in and work on a daily basis until the weather closed in on us in early December.
We had to cancel our December 3rd & 4th volunteer days due to storms (safety and access issues). Our tools, which were stashed at the bottom of the canyon, have been hauled back out. Vehicle access to the trail east of Michigan Bluff is likely over until after the snow melts on Deadwood Ridge and Last Chance Roads.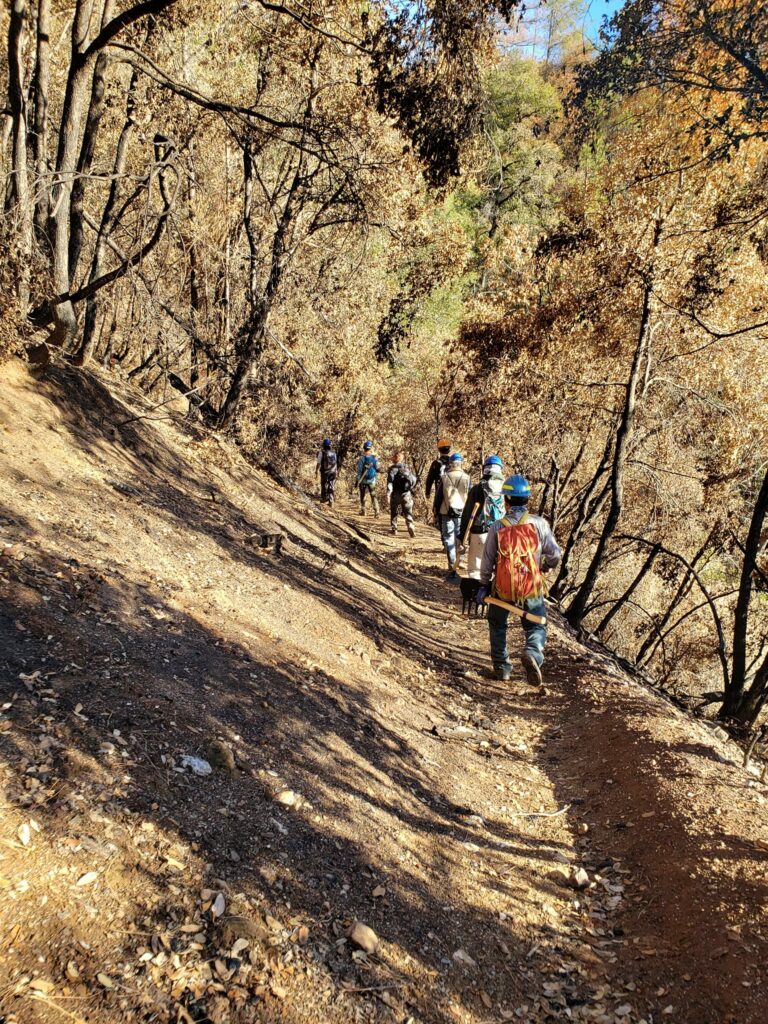 Photos: Lisa Mahon
In Eldorado Canyon most of the hazard trees have been felled, the trail has been logged out, features to limit erosion (water bars) have been installed, and tread work to re-establish an 18" to 24" tread width has been completed over much of the trail. In addition, hazard trees have also been felled over much of the length of Deadwood Ridge.
The remaining work on the historic portion of the trail in El Dorado Canyon will require skilled labor and will comprise rock chiseling/drilling to ensure we fully restore our 18" to 24" tread width and rebuilding of rock retaining walls (we have the USFS and Sierra Buttes Trail Stewardship group lined up to help us with these tasks this winter/spring). Winter storms will cause more erosion, and in the spring we will be able set up additional large volunteer days to help remove eroded soil from the trail tread in El Dorado Canyon. And we will use large volunteer days to help in both fire-affected and areas unaffected by the fire east of Devil's Thumb once we have access.
California Street Section
ASRA has made progress on the California Street portion of the WST. They have felled hazard trees between Dardanelles Creek and Patent Road Fire Road, and their Trail Team has begun to re-bench the trail between Drivers Flat Road and Poverty Bar (Tevis River Crossing) with their trail machine. This is a test case for a planned re-working of the entire length of the trail between Dardanelles Creek and Poverty Bar, except of course where a fire road already exists. And we continue to work with the owners of the private property between Foresthill and Dardanelles Creek to restore that stretch of fire-affected trail.
Ongoing Work
As weather allows we will still plan to mobilize our core team to address trail maintenance needs, particularly in areas affected by the Mosquito Fire, so we are hopefully not overwhelmed with work this spring and early summer prior to our events. However unless we get a prolonged stretch of dry weather, I don't see us having large volunteer days until spring. We don't want to schedule large volunteer days and then cancel due to weather, as we will lose volunteer momentum and interest.
Once we get a dry patch of weather, we'll issue updates on what work we might accomplish this winter.
Many thanks to our Trail Team! There is a lot to do before our events but between our core team, our USFS & ASRA partners, contractors we have lined up, and large volunteer days we are confident that the Trail will be ready.
Please keep in mind that within ASRA the WST is closed from Foresthill to Patent Road Fire Break (below the Transfer Station), and within Tahoe National Forest the WST is closed from Michigan Bluff to Last Chance and inaccessible to the east of Last Chance.